The history of Kaneshige Ritouen
There is an unclear part for details about the genealogy of the Kanesiges, but Ritouen is the oldest lineage in the pottery of Bizen Ware from existing material and research. Kaneshige Riemon which is the name inherited by a head of a family for generations is told as 77 generations, but it isn't correct, it is a pronoun of an old lineage.
The history by which a time is revealed, we are preserving the oldest existing earthy forming die on which a time 「元禄十六年(A.D.1703)」is written. We are also preserving many earthy forming dies in others and those are utilized for important historical materials of historical studies.
A tombstone on which 「雪山常林信士元禄五年十二月十九日殉(A.D.1692.19.DEC.death)」 is written is the oldest one in the graveyard of the Kaneshiges. There are no older tombstone by which reading is possible. The genealogy after A.D.1692 is revealed by reading a tombstone without after one generation. Also, a monument of the Kaneshiges ancestor is deified in one corner in land for housing of Isezaki Mitsuru who is a potter of Bizen Ware. This monument was made before Edo period(A.D.1603~) because of its material etc… so the Kaneshiges is the lineage which could build such a monument(tomb) and is the lineage which keeps being engaged in making of Bizen Ware before that.
Brief genealogical table of the Kaneshige Ritouen
Kaneshige Riemon (posthumous Buddhist name is Itsuou Riemon) who died in A.D.1767 was appointed to a officially potter of Bizen Ware in A.D.1729 by feudal lord of Okayama. After that, the Kaneshiges served as an officially potter of Bizen Ware for generations and be producing many masterpieces, until a system of an officially potter of Bizen Ware has ended at a generation of Kaneshige Kyuuichirou who died in A.D.1902.
Kaneshige Risaburou who is Kyuuichirou's eldest son and died in A.D.1927 deplored a decline of Bizen Ware during Meiji period and groped for a new developed way of Bizen Ware. Then he expected demand of an earthy pipe as material for construction of railroad, so he invited craftsmen from Tokoname in Aichi, and he has begun to establish a company and produce an earthy pipe of Bizen Ware in A.D.1885. The Sanyou railroad corporation started and has begun railroad construction in A.D.1888. The earthy pipe of Bizen Ware is strong for being possible to endure the weight of the train, so demand of an earthy pipe of Bizen Ware increased to reserve a waterway by passing through an earthy pipe under the railroad track and production of an earthy pipe was expanding. There is a monument of Kaneshige Risaburou which made with earthy pipe of Bizen Ware as an originator of earthy pipe of Bizen Ware in the graveyard of the Kaneshiges.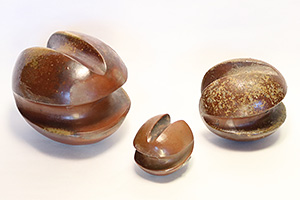 Also Kaneshige Shinzaburou who is Kyuuichirou's second son became a potter of Bizen Ware as Baiyou, and Kaneshige Isamu who is Shinzaburou's son became a potter of Bizen Ware as Touyou and after that he became a living national treasure.
Kaneshige Tsutomu who is Risaburou's son and died in A.D.1978 succeeded to a pottery as head family's heir and applied himself to producing Bizen Ware as 76 generations Kaneshige Riemon and Kaneshige Itsuou. This name Itsuou is associated with Itsuou Riemon who became a first officially potter of Bizen Ware in the Kaneshiges. At the Second World War, the Japanese military commissioned Itsuou to produce an insulator for warship because Bizen Ware is stronger than other potteries, so Itsuou produced it. This insulator of Bizen Ware was used for an antenna of a Battleship「YAMATO」. And Ritouen was preserving some blueprints of the insulator for a Battleship「MUSASHI」 etc… , so the insulator of Bizen Ware was used widely for a part of a warship during wartime. This blueprint of insulator for Battleship「MUSASHI」 was made by 「Mitsubishi heavy industry」 in A.D.1941 and detailed instruction about the finish were written on this blueprint, so that shows that Ritouen had the skill which can meet the severe requirement.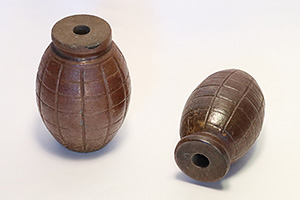 And, the Japanese military commanded production of a grenade made of Bizen Ware in A.D. 1945 because of the lack of material during wartime. It wasn't used because a war has ended soon, but wreckage of it was found in quantities at some pottery's garden.
Next, Kaneshige Minoru who is 77 generations Kaneshige Riemon isn't Tsutomu's own child, an adopted child. Minoru's birthplace is a local great landowner, and he migrated to a continent as a soldier during wartime, and he was detained by former Soviet in Siberia after the war, and he returned home after that. Then an heir of Kaneshiges had been killed in the war so Minoru succeeded to a pottery by he becoming an adopted child. He won many prizes as a potter of Bizen Ware and he held many exhibitions at department store. He made an effort to guide and bring up many potters as head of the Kaneshiges. And, he served as a director of the cooperative of Bizen Ware to preserve and inherit the tradition.